Riba Free Jumbo Loans in All States:
Low Rates, Low Closing Cost, and Fast Service
Bank of Whittier - Debit Cards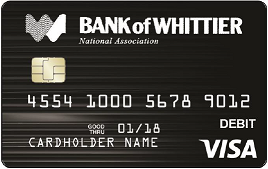 In order to obtain a Riba-Free VISA ATM/Debit Card you need to open an account with us. Please CLICK HERE for an application.

Once completed, please call us at 1-888-716-2000 for your Bank of Whittier Debit Card.
REMEMBER, WE DO NOT RECOMMEND A CREDIT CARD. A CARD SHOULD BE USED TO MAKE YOUR SHOPPING NEEDS EASIER. IT IS NOT A MEANS OF BORROWING MONEY.